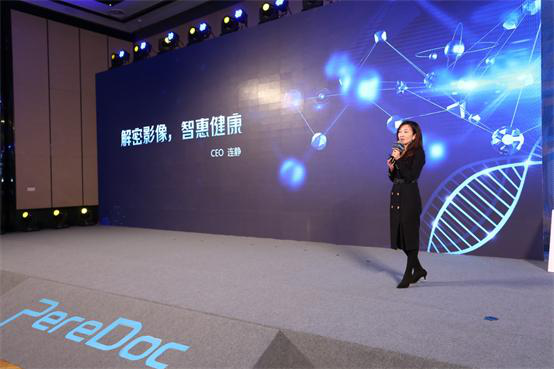 PereDoc CEO Lian Jing launches five new products of PereDoc.
On December 19, 2017, PereDoc's strategy conference on intelligent medical imaging products was held at Beijing's Grand Metropark Hotel on December 19, 2017, thus marking the launch of five strategic products for the assisted diagnosis of pulmonary disease, chest X-rays, space-occupying liver lesions, molybdenum-based targeted mammography screening and pathological screening for lung cancer. Accordingly, the event served as a venue in which to convey the results of these new, smart medical treatment technologies.
Two assisted diagnostic products first launched in China . . . and three that demonstrate global leadership
It is worth noting that pathological assisted screening of lung cancer and assisted diagnosis of space-occupying liver lesions are the first to be launched in China, while the other three readily evidence their status as leaders for the world.
PereDoc CEO Ms. Lian Jing gave an introductory speech in which she indicated that even a 0.01% increase in the accuracy of clinical diagnosis and treatment will mean less suffering for patients and, perhaps, a few more treatment miracles. Ms. Lian then described the five amazing new results that such smart medical technology has produced.
PereDoc assists in the diagnosis technology of pulmonary diseases. The detection rate for 2-5mm pulmonary nodules is 94.9%, and for 5mm pulmonary nodules it is 99.2%. Thus it not only improves upon the world record of 89.7% set by Alibaba Cloud ET in the international authoritative pulmonary nodule testing contest LUNA16 but can also identify five abnormal symptoms and diagnose more than 100 pulmonary diseases. China's first pathological assisted screening of lung cancer based on in-depth learning can greatly relieve the pressure of pathologists, which is of epoch-making significance. The assisted screening system for chest x-rays covers more than 20 symptoms of major cardiothoracic diseases, and can accurately detect various lung diseases, playing an important role in clinical practice. China's first aided diagnosis system (2.0) for space-occupying liver lesions can automatically detect, circle and analyze lesion texture features, guide treatment and predict prognosis. Moreover, the assisted molybdenum-based mammography targeted screening system (2.0) improves the detection rate of micro-calcification, which is preferred as the easiest, most reliable and most innocuous testing method for the diagnosis of breast disease.
Significantly, the conference also invited a number of industry leaders, magnate guests who enjoyed the special government allowance granted by the State Council, including Professor Sun Fuxiu, the chief expert consultant of Everhealth; Professor Cai Zulong, the former vice-chairman of the China Medical Imaging Technology Committee and a radiologist at Chinese PLA General Hospital; Professor Dai Ruping, a former advisor to the China Society of Radiology and a radiologist at Fuwai Hospital of the Chinese Academy of Medical Sciences; Professor Ji Xiaolong, a former director of the Department of Pathology of Armed Police General Hospital and director of its Tumor Biotherapy Department; Professor Cheng Liufang, a former expert of the Department of Gastroenterology at Chinese PLA General Hospital; and Professor Gu Kuiqin, a distinguished expert from the Special Health Medical Center of Armed Police General Hospital.
Elites within the industry gathered at the event, lending credibility to the conference while also proving that the integration of AI, big data and medical treatment is set to transform healthcare, treatment and preventive medicine.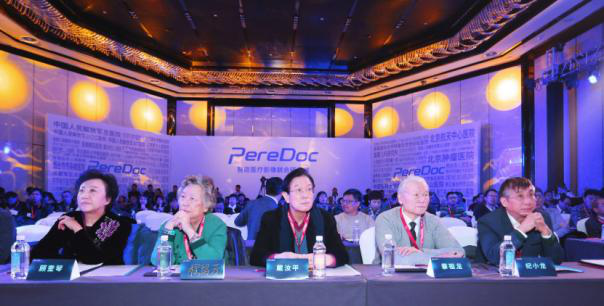 Doctors will create a bright future with the help of AI
Professor Wu Jianlin, a national committee member of the China Society of Radiology and head of the Cardiothoracic Team, expressed "reverence and awe" at the attendance of such important guests, adding, "AI technologies have unparalleled advantages in the medical imaging diagnosis, such as non-emotional interference and good self-learning ability and will play a growing role in the future," "PereDoc is boosting the ecological construction of medical big data with the constantly updated scientific strength".
"Don't worry that AI will replace human beings. The final diagnosis of medical imaging is always inseparable from experienced medical experts." Professor Wu Jianlin said in the rest of his lecture that PereDoc imaging aided diagnosis platform reduced the doctors' work intensity, improved the diagnosis quality and integrated the patients' clinical big data, imaging big data, pathological big data and genes big data to the analysis on the occurrence and development of diseases in multi-perspective and multi-level and diagnose the diseases more accurately.
Not long ago, a student of Professor Wu found a 3mm pulmonary nodule in the CT and wrote a professional image report, which rather surprised Professor Wu who had more than 30 years of clinical experience, "I feel my student outperformed me." Later the student admitted it was the PereDoc imaging-aided diagnosis platform that helped him to complete this perfect task.
Though AI has unparalleled advantages than human beings, "a leader can be replaced, an entrepreneur can be replaced, while a good doctor is hard to be replaced." Wang Rengui said in his lecture, director of the Shijitan Hospital affiliated to Capital University of Medical Sciences said in his lecture.
"In the past year of contact with PereDoc, I found that the team showed extreme enthusiasm and devotion to the technology," Wang Rengui said. "They had a version update almost every month, and each one had a breakthrough progress that surprised the doctors who used it."
"PereDoc employed the original gold-standard tagging mode in the assisted diagnosis of lung caner. By comparison to ordinary tagging, which only labels the nodular position, size and lung-window morphology, the gold-standard tagging mode--referring to the pathological results--also labels the nodule or the surrounding situation, the intrapulmonary metastasis, the enhancement features of CT values and the features of regional lymph nodes and bone destruction. So, it provides more accurate diagnosis results and helps doctors to screen out suspected pulmonary nodule lesions quickly." Wu Chongchong, chief physician at Chinese PLA General Hospital, elaborated on the work principle and process of PereDoc in assisted lung-cancer diagnosis in his lecture.
"Just as Professor Wang Rengui said, AI is our dream, future and lover as well as our partner," Wu Chongchong said in her speech. "The future is coming. Doctors should make good use of AI--this scientific tool--so as to serve their patients better."
PereDoc Institute of Intelligent Medical Imaging welcomes fresh blood
The PereDoc Intelligent Medical Imaging Institute was established two months ago, being jointly initiated by 20 hospitals with the participation of more than 50 key institutions. This makes it the world's largest joint effort devoted to the development of intelligent medical imaging, and its broad scope of cooperation and high scientific research ability have received great interest from the modern healthcare industry.
The Intelligent Medical Imaging Institute welcomed two new members on December 19 and held a signing ceremony for them.
Accordingly, more than 180 partners have joined the institute. Professor Sun Fuxiu, the chief expert consultant of Everhealth, also participated in the ceremony as a new member.
Ms. Lian Jing, in her speech at the ceremony, said, "The Intelligent Medical Imaging Institute has made many outstanding achievements in merely two months since its establishment. I believe that, as more members join, we will jointly overcome more medical problems and bring forth a bright future in smart medical treatment."