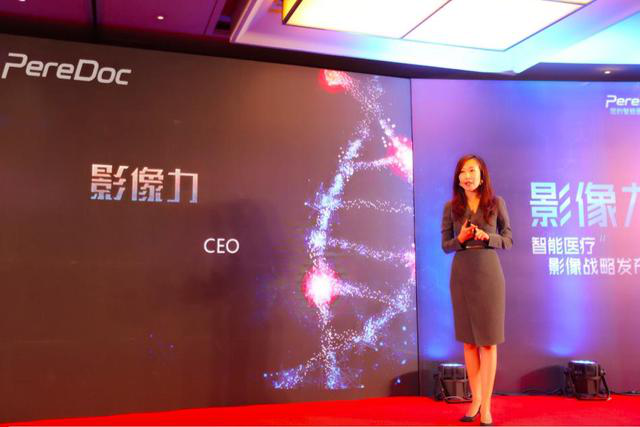 Earlier this year, the IBM computer system known as Watson "practiced medicine" in China for the first time and wrote a cancer prescription in just 10 seconds. Consequently, people assumed that the AI might subvert the traditional medical treatment. Just a few months later, PereDoc's intelligent medical imaging-aided diagnosis system has quietly opened the curtain on the reform of Chinese hospitals.
PereDoc CEO Lian Jing spoke sincerely in an interview with a Tencent health reporter on October 14: "In China, there are 4.34 million new cancer patients and 1.3 billion instances of imaging examination every year. Our experts and medical workers feel extra pressure. Who can help these patients find the best medical resources and thereby gain time and opportunities? Who can help teachers reduce their workloads? Who can gain more time and opportunities for patients? That's what PereDoc wants to do. We want doctors and hospitals to use our technology to help their patients."
PereDoc greatly enhances a doctor's efficiency
"Sometimes, doctors in the imaging department have to stay in the office until eight o'clock every night. A patient's lung imaging has hundreds or even thousands of films. It's very difficult and time-consuming for doctors to read films." Professor Wu Jianlin, the national chairman of the Cardiothoracic Team of the China Society of Radiology and vice-president of Affiliated Zhongshan Hospital of Dalian University told the journalist, "It's much faster with AI, though, because doctors only need to confirm according to several nodes marked by the system. Each film is shortened from two minutes to several milliseconds, and the efficiency has been improved nearly 100 times."
PereDoc's sci-tech team started at a very high level. Many members from the Chinese Medical Association have participated in the R&D, and together they constructed a high-quality pulmonary nodule 3-D CT medical imaging diagnosis gold standard tagging database. This database is the key data infrastructure of medical AI application and playing a significant role for promoting the intelligent medical treatment. At the same time, the intelligent diagnosis algorithm with a high accuracy rate and low false-positive rate is the fundamental technology of intelligent diagnosis that can be used for the CT intelligent diagnosis of pulmonary nodules as well as for other major diseases such as thyroid cancer, breast cancer, brain tumor, renal cell carcinoma and liver cancer. Thus it has great value to society and the medical field in general.
To sum up PereDoc's performance, CEO Lian Jing told the reporter, "We can say that our image-omics, big data, AI have reached globally advanced level in curative effect evaluation, assisted diagnosis and prognosis prediction. Some aspects are moving forward very rapidly."
Breaking a world record: 99.2% detection rate for over-5mm pulmonary nodules
"The world record of 89.7% achieved by Alibaba Cloud ET in the international authoritative pulmonary nodule testing contest LUNA16 has been beaten by our PereDoc!" Ms. Lian said with pride. PereDoc's detection rate for 2-5mm pulmonary nodules is 94.9% and 99.2% for 5mm pulmonary nodules, while the accuracy rate for benign and malignant prediction is 95.3%.
"I have been involved with PereDoc for nearly a year," said Wang Rengui, director of the Radiology Department at Beijing Shijitan Hospital of Capital Medical University. "They developed very quickly from version 1.0 to 2.0 and then to 3.0, with fast optimization and iteration. Each version has shown breakthrough progress that surprised the doctors who used it." He added with smile, "In fact, I hope the version 30.0 can replace me!"
Professor Wu Jianlin also believes AI will play an important role in the medical sector. "We're now taking the first step, which is to have contact with some companies. Regarding the strong technical strength, concept, horizon and pattern through which to integrate PereDoc with the world of medicine, I think it's promising. Currently, there are nearly 100 companies researching medical AI. I believe the companies that are more realistic can more effectively overcome the challenges that hospitals face. In doing so, they'll show bright prospects for health conditions in China."
Global medical resources connector: Outline the scene of future hospitals
Wu Chongchong, director of the Radiology Department of Chinese PLA General Hospital, emphasized that intelligent medical treatment will transform more than just the imaging departments of hospitals. "Consider the Da Vinci surgical robot, there are more than 20 in our hospital. A lot of departments use it. It's very popular."
Wang Rengui, director of Shijitan Hospital, CMU, predicted that the service window of the hospital would soon be replaced by AI.
He presented the scenario of a tertiary grade-A hospital in the near future for consideration by the reporter: "If the administrative department allows the AI to enter, the pharmacist only needs to send an instruction to AI. This means the pharmacist will be replaced. The job of medical record collection of residents will be replaced, and the registration, record-making and intermediate physicians of the Radiology Department will be replaced. Nurses in the operating rooms and young physician assistants will be replaced, and much of a physician's more tedious work will be replaced.
"Even the presidents and vice president of hospitals will be replaced. However, there remains a question mark."
Build a leading joint institute of intelligent medical imaging
"There is one thing that is very certain," said Ms. Lian. "As advocated by PereDoc and experts, the Intelligent Joint Institute of Medical Imaging has been established. We promise to invest at least 100 million yuan in scientific research projects every year."
The institute is jointly sponsored by more than 20 hospitals, including the Chinese PLA General Hospital, the Chinese People's Liberation Army Hospital No. 302, the Chinese People's Liberation Army Hospital No. 307, Zhongshan Hospital Affiliated to Dalian University, Shijitan Hospital Affiliated to Capital University of Medical Sciences, Beijing Children's Hospital Affiliated to Capital University of Medical Sciences, Capital Institute of Pediatrics, Xuanwu Hospital Affiliated to Capital University of Medical Sciences, Beijing Cancer Hospital, Sichuan Cancer Hospital, Space Center Hospital of Beijing, Shanghai Ninth People's Hospital, Chengdu Military General Hospital, Shanghai Chest Hospital of Shanghai Jiaotong University, The First Affiliated Hospital of Guangzhou Medical University, Affiliated Hospital of Guangzhou University of Chinese Medicine, The First Affiliated Hospital of Harbin Medical University and The First Affiliated Hospital of Soochow University. Additionally, it has the participation of more than 50 key hospitals in more than 20 provinces and cities for the purpose of researching the application of AI to the medical imaging sector, which comprises the areas of specialization in the lung, liver, breast, thyroid, glioma, fundus, pathology, cell morphology and others.
This is China's first joint institute for intelligent medical imaging. It is second to none in scale and research fields worldwide.
"It's always the same old story, but hopefully the complaint that 'it's difficult and expensive to see a doctor' will become something of the past, and then ordinary people will be able to see doctors and benefit from relatively complete medical service," Ms. Lian said. "If hospitals don't change, we'll change the hospitals. Hospital reform is underway."
Thus, in the future, with the help of the PereDoc Plus global medical resources connector, it will be much easier for ordinary people to go abroad for medical visits. Global resources are here to serve us. They help doctors and patients with technologies and connect with the world's best, most appropriate medical resources.